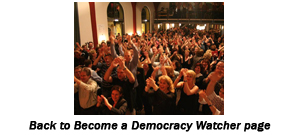 Background Information: Democracy Watch is Canada's leading democratic reform, government accountability and corporate responsibility advocacy group.  Democracy Education Network is one of Canada's leading civics and democracy skills education organizations.  The two organizations work together on some research and education programs, and also have separate projects.
Volunteer Event Organizer position description: We are seeking people across Canada to organize a local CoffeeParty.ca event to write letters to politicians urging Good Government and Corporate Responsibility changes to laws.
We are also seeking people across Canada to organize large public events where Democracy Watch representatives can talk about the organization's work and how to support its campaigns for democratic reforms in Canada.
We are also seeking people across Canada organize workshops and courses for the Democracy Education Network's Democracy Skills Workshops program.
Requirements: for Event Organizers, enthusiasm and commitment to raise funds and fees to cover costs of events.
Start date: Immediately
Please send your proposal to organize a Coffee Party or public event in your area by email to: [email protected]
Thank you for your interest in helping Democracy Watch and Democracy Education Network.