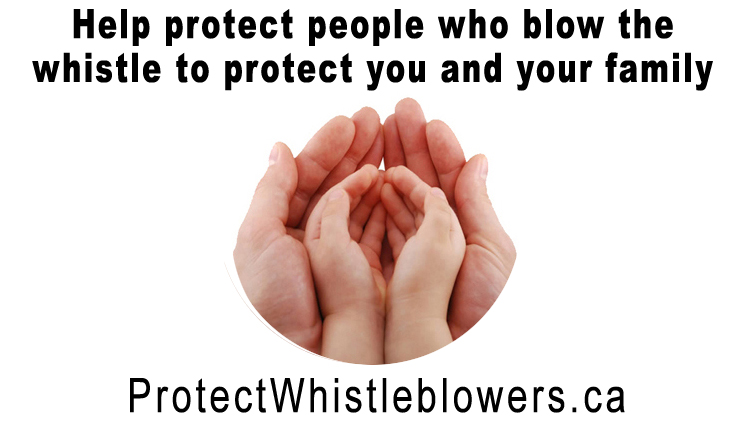 ---
Advocating for stronger protection for people who protect you and your family by blowing the whistle on government and big business abuse, waste and law-breaking
Please send your letter now using the form on this page, and please help spread the word by Liking and Tweeting this page.
Key Links
The Opportunity
People who work at or with governments and big businesses know what is going on, and if they are fully protected and can blow the whistle on abuses, waste and law-breaking, they can protect you and your family from being abused, and protect you from your money being wasted.
The Canadian government is reviewing its very weak and flawed whistleblower protection law, and politicians need to hear from as many voters as possible calling for key changes to fully protect people who blow the whistle to protect you and your family.
Across Canada, governments are facing more and more pressure to protect whistleblowers who blow the whistle on government and big business abuses, waste and law-breaking. You can help push for more protection by clicking "SEND" to send the letter to the right to your provincial and federal politicians.
Background
The Canadian government initially set up a very weak system for protecting whistleblowers in 2000. Thankfully, the first commissioner who headed up that system admitted after one year that it was too weak to protect anyone.
That, along with pressure from Democracy Watch and other organizations, led to a new law, the Public Servants Disclosure Protection Act (PSDPA) in 2005, which was strengthened a bit in 2007.
In 2011, the first federal Integrity Commissioner, Christiane Ouimet, was found by the Auditor General to have a negligently weak enforcement record in more than 200 cases. The federal Conservative government paid Ouimet off with $500,000 and prohibited her from talking about what she had done after it fired her.
Democracy Watch's coalition of more than 30 groups kept pushing for changes through 2011, but the Conservative government failed to take any actions to strengthen whistleblower protection.
In 2014, the second Integrity Commissioner, Mario Dion, was found to be grossly negligent by the Federal Court of Canada. The federal Conservatives gave him another job as Chairperson of the Immigration and Refugee Board of Canada.
The current federal Integrity Commissioner, Joe Friday, worked with both Commissioner Ouimet and Commissioner Dion.
In the 2015 and 2019 and 2021 federal elections the Trudeau Liberals failed to include any promises to strengthen whistleblower protection in their election platform. However, in June 2017, a House Committee unanimously called for key changes to strengthen federal whistleblower protections, and in February 2021 the Committee again called on the Trudeau government to respond to its report. After the 2021 election, Prime Minister Trudeau mandated his Treasury Board Minister to explore changes to strengthen the federal whistleblower law.